How to protect your rental property in Reno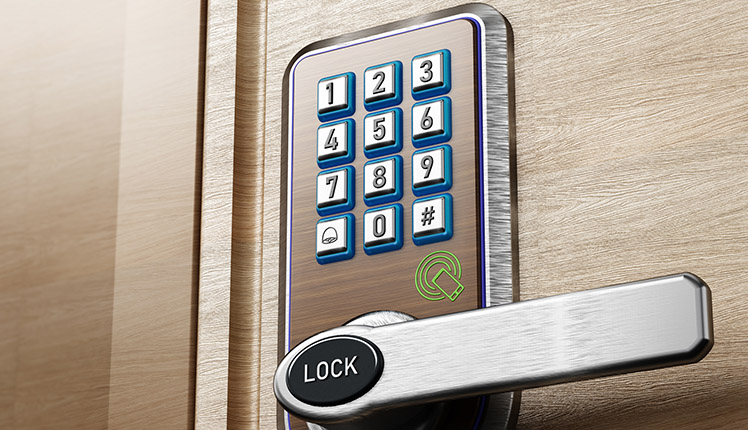 Irregardless of whether you rent out your family's cottage or you run a diverse portfolio of Airbnbs, you may find it difficult to protect your rental properties in Reno. With actual keys passing through different guests, it's normal to worry about disappearing items or past renters showing up unexpectantly. In addition, what would you do in the event of a flood or fire at your Airbnb while it's being leased?
From enhanced locks to completely automated home security packages, here's a quick guide on how to protect your Airbnb in Reno.
Smart locks eliminate people from copying your keys
When a visitor moves on, they could return all keys for the following inhabitant. However, if a tenant grabbed or secretly made copies of a key, they would be able to sneak back in later. Needless to say, you could switch out your locks after a key is "misplaced", but that creates delays and cuts into your revenue.
Thankfully, you can put in smart door locks that work in conjunction with your home security system to counter these concerns. You will then give each visitor their personal code number for entry. When they depart, there's no need to worry with a key dropoff. Instead, simply customize the codes to deactivate when they exit. If past lodgers come back and attempt to use their previous access code on the keypad, you will receive a notification of the failed attempt on your mobile device.
A smart security system makes empty properties appear occupied at all times
Of course, you hope that your Reno rental property will have guests, but that's not always the case. Nevertheless, you need to make it appear that people are present so your rental isn't a potential target for prowlers. Incorporating home automation into your property's security affords you the opportunity to use smart lights, motion sensors, and surveillance systems that make your lodging seem lived-in.
Start by programming some lights to come on at specified times of the day. You will also set your cell phone app to warn you if your cameras detect an intruder hiding in the dark or approaching the front door. You then are able to use the two-way audio capability to make them aware that you can see them or set your lighting to instantly turn on when a surveillance device or motion sensor identifies something unusual.
Protect your Reno rental property with 24/7 monitoring
Your renters will have more peace of mind if they have protection from intruders, especially when Reno is unfamiliar territory. When a prowler tries to break in, your home alarm system will not only sound a siren but will also notify your 24/7 monitoring agents. Even if you're not available, emergency services will be forthcoming. Your monitoring agents are capable of acting as your point person and communicate with you as soon as you're available.
Along with intrusions, your monitoring team can link to fire alarms, water sensors, and carbon monoxide sensors. It is likely to be distressing for your guest if flooding occurs or something catches fire. You will then receive a smartphone notification that an emergency has taken place, but a representative can also authorize help from emergency personnel while you're en route.
Get started with a modern home security package in Reno
The best way to protect your Reno rental property is to install a state-of-the-art home security system. Thankfully, Vivint has great features like smart light bulbs, smart entry locks, and around-the-clock monitoring. Contact us today and our home security experts will help you customize a system that's ideal for your Airbnb or rental property. Dial (775) 259-9515 or submit the form to begin!
Cities Served Around Reno By Smart Security Specialists Your Local Vivint Authorized Dealer